Hello Wednesday! How are you here already? The weeks seem to be going by faster and faster as November passes. There have been some bits of the internet that have caught by attention lately - Winter fashion is coming in full-swing; award hopeful movies and big-budget movies are starting to release trailers; and Christmas joy is filling the air! Here are some links that I'm loving at the moment:
Cinderella
Who doesn't love a Downton Abbey-Game of Thrones mashup? Also Cate Blanchett is in it and she is just simply amazing. Can't wait until March to see this!
Idina Menzel and Michael Bublé
I've loved Idina Menzel for a long time. Like, ever since I heard the soundtracks to Wicked and Rent which was around 6 years ago (though it feels so much longer), so it is thrilling to see her gain a wider audience! "Baby It's Cold Outside" is in my top 5 favourite Christmas songs and I love the combination of Idina and the always gorgeous Michael Bublé together. His voice is like a blessing to mankind. The boy-meets-girl story in the video is also very cute :)
J.Crew Winter Arrivals
The majority of my wardrobe (or at least the wardrobe I wear the most) is J.Crew. It just fits so perfectly into my style! I love the
Chateau Parka
and the
Cocoon Coat
but they do have a decently large price tag. I picked up this really cool sweater last week: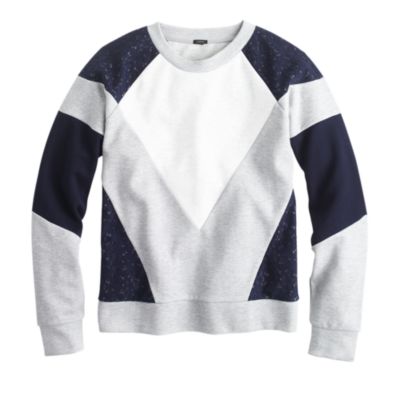 It's a catchy pattern and extremely cozy! It's a sweater that can be used in most situations. It is great piece that can keep you looking "fashionable" (I don't really like that word, but I don't really know how else to describe it - chic, perhaps?) and be extremely comfortable. On the days when I wake up and go to the library (putting no effort into my look) this is something I would grab.
This sweater is not something I would normally just pick up in the store (and I probably wouldn't have gotten online) but it is amazing in person. Highly recommended!!